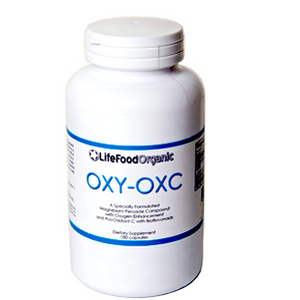 A Specially Formulated Magnesium Oxide Compound with Oxygen Enhancement, Sodium, and Bioflavonoid Complex with Vitamin C (as ascorbic acid).
Oxy-Oxc is the most readily available and easily usable method of complete oxygenation of the gastrointestinal tract. It consists of a specially formulated Magnesium Peroxide compound with Oxygen Enhancement, and Pro-Oxidant Vitamin C with Bioflavonoids.

Directions: Take 2-4 capsules up to 4 times per day to produce 4 bowel movements daily if you are on a cleanse. You may need to alter the amounts taken up or down to work with your system. Most people get results within 24-48 hours after beginning to take Oxy-Oxc.
*These statements have not been evaluated by the Food and Drug Administration. These products are not intended to diagnose, treat, cure or prevent any disease.