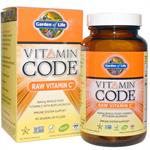 RAW Probiotic and Enzyme Blend - Saccharomyces boulardi, Phytase, Cellulase, Beta-glucanase, Protease, Alpha-galactosidase, Hemicellulase.

RAW Organic Fruit and Vegetable Blend - Organic Strawberry, Organic Cherry, Organic Blackberry, Organic Blueberry, Organic Raspberry, Organic Beet Juice, Organic Carrot Juice, Organic Broccoli Juice, Organic Cucumber Juice, Organic Tomato Juice, Organic Kale Juice, Organic Spinach Juice, Organic Cabbage Juice, Organic Cauliflower Juice, Organic Celery Juice, Organic Parsley Juice, Organic Asparagus Juice, Organic Brussels Sprout Juice, Organic Green Bell Pepper Juice, Organic Garlic Juice, Organic Ginger Juice, Organic Onion Juice,

Supplements - Vitamin C*, Calcium*, Phosphorus*.

Other Ingredients - Saccharomyces cerevisiae, Lactobacillus bulgaricus, vegetable capsule.
*RAW Food-Created Nutrients are individually created through dual-organism cultivation and contain live Probiotics, Bioactive Glycoproteins, Bioactive Lipoproteins, Bioactive Enzymes, Chlorophyll, Glucomannan, SOD, Glutathione, Beta-glucans, Lipoic Acid, Essential Trace Minerals, Glutamine, Polysaccharides and CoQ10.
The Fruits and Vegetables in Vitamin Code are RAW and Organically Grown.
While most people associate vitamin C with immune support, the truth is that this powerful antioxidant, found in every cell of the body, is more far-reaching than a simple immune support vitamin. Protecting your cells against the effects of free radical damage, vitamin C helps the body ward off the effects of oxidative stress. It is critical in helping to build and maintain tissues while strengthening the immune system.
Essential for growth and repair of tissues in all parts of the body, vitamin C promotes vision health, periodontal health and collagen, bone and cartilage formation. Also needed by the adrenal glands, vitamin C helps with emotional and physical stress response. Vitamin C is also required to convert folic acid to its active form.

Why Vitamin Code RAW Vitamin C?
Garden of Lifes RAW Vitamin C is a comprehensive, whole-food, vitamin C formula made with RAW Food-Created Nutrients for targeted delivery of this nutrient. Individually cultivated with their unique Code Factors intact, the RAW Food-Created Nutrients in Vitamin Code formulas enable natural recognition of nutrients by your body, just as nature intended.

Code Factors are the known and yet to be discovered synergistic compounds found in food and are necessary for proper nutrient delivery. Providing these Code Factors infuses the essential elements of whole-foods that the body thrives upon. One of the most important vitamins supporting the immune system, Vitamin Code RAW Vitamin C is vital for healthy eyes, skin, bones, teeth and gums, wound healing, energy production and growth, as well as memory and concentration.
Vitamin Code RAW Vitamin C is RAW, vegan, gluten-free, dairy-free and contains no binders or fillers. Taking this RAW vitamin C formula to the next level, Vitamin Code RAW Vitamin C also provides a RAW probiotic and enzyme blend along with a RAW organic fruit and vegetable blend for additional nutritional support.

Who May Benefit from Vitamin Code RAW Vitamin C?
- Vitamin C is essential to everyone and must be obtained through diet or supplements.
- People participating in strenuous exercises
- Those exposed to environmental pollutants
- Smokers
Vitamin Code RAW Vitamin C Nature-Intended Features and Benefits:
- Healthy Heart
- Immune Support
- Bone Health
- Healthy Skin & Eyes
- Memory & Concentration
- RAW
- Vegan