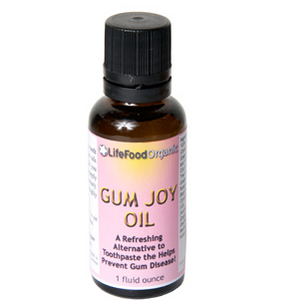 Gum Joy Dental Oil is a blend of 10 organic oils formulated to refresh the mouth and help prevent tooth and gum disease. Gum Joy fights bacteria and helps to keep tooth decay and gum disease at bay with naturally disinfecting melaleuca (tea tree oil). Finer than a paste, Gum Joy's oils penetrate the small spaces between teeth more readily, gently cleaning and refreshing in a way no toothpaste can. In addition to its benefits to the teeth and gums, Gum Joy invigorates and enlivens the whole mouth and leaves your breath sweet and fresh. I recommend that every household have a bottle of Gum Joy Dental Oil for daily use as well as for the unexpected flair up of any delicate or sensitive gum areas. You may also apply 2 – 3 drops directly to the gums with the dropper and let it soak in the gums for faster relief.
Ingredients:  Gum Joy is a blend of 100% Pure Organic Hemp Oil (Canada), 100% Pure Organic Grape Seed Oil/Vitis Vinifera (US), and 100% Pure Organic Essential Oils of: Melaleuca Alternifolia /Tea Tree Oil (100% Pure Therapeutic Grade-Australia), Tangerine (US), Rosemary Officinalis (India), Black Pepper /Piper Nigrum (India), Clove Bud /Eugenia Caryophylatta (US), Eucalyptus /Polybractea (Australia), Ginger Officinale /Zingiber (US), and Wintergreen /Gaultheria Procumbens (US); Menthol Crystals. All oils are Kosher and solvent free.
*These statements have not been evaluated by the Food and Drug Administration. These products are not intended to diagnose, treat, cure or prevent any disease.