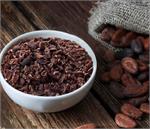 Ingredients: USDA Certified Organic, Raw Cacao Nibs.

Our raw Cacao Nibs from Venezuela are a richer, dark brown color, and more dense than the Philippine Cacao. It's flavor is also more intense, with a faint coffee-like flavor in addition to the light chocolate taste.
To fully receive all the nutrional benefits from the Cacao plant, eat Cacao as close to its natural state as possible. Raw Cacao Nibs are rich in a number of essential minerals: magnesium, sulfur, calcium, iron, zinc, copper, potassium, and manganese.
A small evergreen tree native to the deep tropical region of the Americas, the scientific name Theobroma means "food of the gods". It may increase your focus and alertness and contains nutrients to keep you happy. Chocolate and cacao are often associated with love. All this is due to phenylethylamine contained in the cacao.
In its raw state, it contains a wide array of unique properties, antioxidants and minerals that enhance both physical and mental well-being. It has an incredibly rich supply of magnesium, along with other essential minerals: calcium, zinc, iron, copper and potassium. The majority of antioxidants are water-soluble and when the fat is removed from the cacao bean the ORAC scores almost double.
The lure of chocolate can be overwhelming for some people. Cocoa contains theobromine (a chemical related to caffeine). The sugar in chocolate releases serotonin (a brain chemical related to a positive sense of well-being). Despite its physical properties chocolate is not a physically addictive food, however some people may find themselves psychologically addicted to chocolate. This may not be true for raw cacao.

WARNING! Eating RAW CACAO can cause a profound state of bliss!