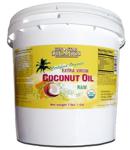 This fragrant melt-on-your-tongue delicious coconut oil is ideal for all your raw recipes and also the perfect cooking oil, especially at high temperatures. Use this aromatic coconut oil in place of butter or other oils as a spread, in smoothies, raw food cake and pie, dehydrated food recipes, baby food formulations, ice cream, frozen desserts, chocolates and confectioneries.  
The health benefits of eating coconut oil abound and include radiant skin, stress relief, heart health, balance cholesterol levels, weight loss, kidney health, improved digestion, increased metabolism, modulate blood pressure, boost immunity, dental care (oil pulling), it is known to balance blood sugars for diabetes and generally build bone strength. Our virgin coconut oil absorbs beautifully into the skin as a natural body oil, lip balm, and as a deep conditioning treatment for hair.  
These benefits can be attributed to the presence of lauric acid, capric acid and caprylic acid, and its properties are antimicrobial, antioxidant, antifungal, antibacterial, and deeply soothing.
Ingredients:  Pure raw organic extra virgin coconut oil in glass jar.
*These statements have not been evaluated by the Food and Drug Administration. These products are not intended to diagnose, treat, cure or prevent any disease.