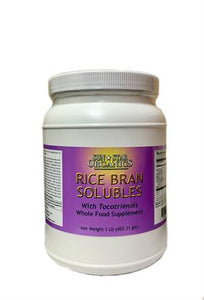 Ingredient: Stabilized Rice Bran and Germ, non-chemically pre-digested and separated from insoluble fiber.
A delicious tasting food based fatty acids, vitamin/mineral complex with Tocopherols and Tocotrienols.
For thousands of years rice has, and continues to be the largest source of human nutrition on the planet. Many of the mysteries surrounding rice brans nutritional strength are just now coming to light. Some call the thin brown coating between the rice kernel and the protective hull the nutritional essence of mankinds greatest nutritional needs.

Vitamins
---
Vitamins help us regulate our metabolism, assist the body in the formation of tissue and bones, and help convert fat and carbohydrates into energy. The body cannot assimilate vitamins without ingesting food. The following is a brieflist of the Vitamins found in Rice Bran Solubles:
Vitamin A (Beta Carotene), Vitamin B1 (Thiamin), Vitamin B2 (Riboflavin), Vitamin B3 (Niacin), Vitamin B5 (Pantothenic Acid), Vitamin B6 (Pyridoxine), Vitamin C (Ascorbic Acid), Vitamin D, Vitamin E, Folic Acid, Biotin, Choline, and Inositol.
Minerals
---
The body cannot manufacture a single mineral. And yet, minerals are constituents of bones, muscle, blood, nerve cells, teeth and soft tissue. Minerals allow the body to assimilate vitamins. The following minerals are found in Rice Bran Solubles:
Calcium, Potassium, Magnesium, Phosphorus, Iron, Zinc, Manganese, Copper, Iodine, along with many other trace minerals.