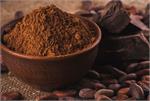 Ingredient: USDA Certified Organic Cacao Powder
Great for hot and cold chocolate beverages, fudge, cakes, truffles, and more! Cacao is loaded with antioxidants. When the fat is removed from the cacao bean, the ORAC scores almost double!
We take great care in producing our Cacao powder. By seperating the cacao powder from the bean by cold-pressing, we ensure that all of the antioxidants, nutrients, enzymes, and minerals remain intact for your nutritional benefit.
Cacao Description
Chocolate and cacao are often associated with love. All this is due to phenylethylamine contained in the cacao.
Our cacao contains a wide array of unique properties, antioxidants and minerals that enhance both physical and mental well-being. It has an incredibly rich supply of magnesium, along with other essential minerals: calcium, zinc, iron, copper and potassium. The majority of antioxidants are water-soluble and when the fat is removed from the cacao bean the ORAC scores almost double.
The lure of chocolate can be overwhelming for some people. Cocoa contains theobromine (a chemical related to caffeine). The sugar in chocolate releases serotonin (a brain chemical related to a positive sense of well-being). Despite its physical properties chocolate is not a physically addictive food, however some people may find themselves psychologically addicted to chocolate. This may not be true for raw cacao.

WARNING! Eating CACAO can cause a profound state of bliss....!