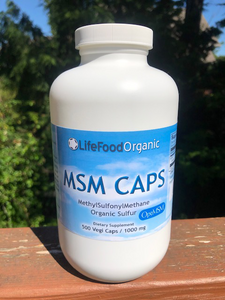 MSM (methylsulfonylmethane) is a health and beauty supplement, it is organic sulfur, one of the six most abundant minerals in the body.  Most importantly, MSM shrinks inflammation in the body and makes the blood slippery.  It is necessary for healthy cellular development and repair, and aids in cell membrane flexibility/permeability so oxygen and nutrients can enter cells more easily. 
 MSM helps to grow gorgeous skin and healthy strong hair and nails.  It promotes natural hair color (greying hair is a sulfur deficiency). MSM is a sulfur-bearing molecule found in all living organisms. Sulfur is one of the five elements of life and is needed to form crucial blood proteins and amino acids. When our diet lacks MSM, cells become rigid and lose the ability to flex back which is basically the process of aging. MSM is a youthing molecule and make cells flexible and elastic.
 Ingredients:  Pure Opti-MSM (methylsulfonylmethane).  In Vegi-Capsules.
*These statements have not been evaluated by the Food and Drug Administration. These products are not intended to diagnose, treat, cure or prevent any disease.