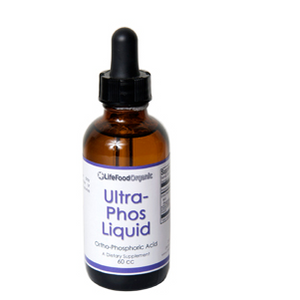 This product is used in my gallbladder flush program to dissolve inorganic calcium in gallstones, reducing the stones to soft green balls of cholesterol so they can be easily passed.  Many doctors also use it to break down kidney stones.
I recommend Ultra Phos Liquid for the preparation phase of my signature LifeFood Nutritional Fast program with gallbladder / liver flushes outlined in my book, LifeFood Recipe Book; Living on Life Force (North Atlantic Books).  Orthophosphoric acid is used here to break down adhesions of the digestive tract to maximize the amount of debris flushed from the body.
Ingredients:  Ortho-Phosphoric Acid (Phosphorus), Choline Bitrate, Inositol.
*These statements have not been evaluated by the Food and Drug Administration. These products are not intended to diagnose, treat, cure or prevent any disease.