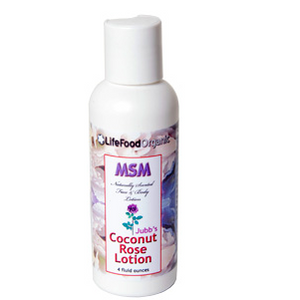 I formulated this rich luxurious lotion for face, hand, body and hair as a multi-purpose lotion. Made with food quality ingredients, it is nourishing to the skin. The perfect everyday lotion, I keep a bottle at every sink in the house.  I use my lotion all over my face, neck and body and even as a leave-in hair conditioner to pull together curls and eliminate frizz. So great for shaving sensitive skin. The high MSM and nutrient content of this lotion makes it very hygienic, hypoallergenic and healing so it can be applied to sore muscles, blemishes, open wounds, skin infections, inflammation, and bruises to speed healing.  It's so hygienic I use it as a quick hand sanitizer too.
Contains only organic and sustainably sourced ingredients:  Triple UV treated deionized water, OptiMSM 10% (MethylSulfonylMethane), coconut wax (polawax), organic coconut oil, organic usnea extract, organic comfrey root extract, organic calendula flower extract, 100% pure organic tea tree oil (anti-bacterial), organic jojoba oil, organic aloe vera extract 200:1, grapefruit seed extract (citricidal), organic Vitamin E (d-alpha-tocopherol), wild-crafted shea butter, manuka honey, organic Vitamin C (ascorbic acid), Vitamin A and natural coconut rose scent.  
Never tested on animals. No chemical preservatives, alcohols, synthetic fragrance, parabens, solvents or lanolin. Hypoallergenic.
*These statements have not been evaluated by the Food and Drug Administration. These products are not intended to diagnose, treat, cure or prevent any disease.