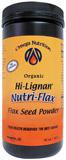 The ultimate whole-food fiber for maintaining bowel health! High lignan organic flax seed fiber is nature's richest source of vegetable lignans. Mix with water, juice or health drinks. For baking, substitute 1 tbsp Nutri-Flax + 3 tbsp water for one egg.
Ingredients: Organic Partially Defatted Flax Seed Powder.
Flax seeds vary according to seed variety and from crop to crop. The texture of this all-natural product may vary depending upon the mucilage content of the original seeds. Changes in viscosity are natural and do not affect the nutritional value of this product.

Friendly fiber, essential fatty acids and lignans
---
Hi-Lignan Nutri-Flax is a whole food source of two kinds of high quality fiber, essential fatty acids, protein, and remarkable nutrients called lignans, which are known for their many therapeutic properties. Hi-Lignan Nutri-Flax is partially defatted ground flax seed fiber and is made without the use of solvents or fractionating the seed in any way.

Easy to use!
---
Add 1 tbsp gluten-free Hi-Lignan Nutri-Flax to any early morning blender drink. But don't forget the water! It is very important to increase fluid intake. Soluble fiber becomes gelatinous and bulky when combined with water, filling the intestine and coating the walls. This mixture soothes irritations and inflammation of the intestinal tract while protecting and gently cleaning.