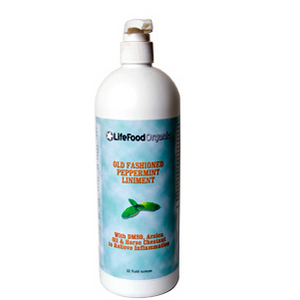 DMSO has the ability to penetrate the skin and exerts anti-inflammatory action, reducing pain, swelling and improving joint mobility.  It can also carry other nutrients through the skin. It increases blood flow throughout the body and speeds healing.  DMSO is a powerful scavenger of the damaging hydroxyl free radicals in the body which are associated with arthritis.  It can prevent free radicals from destroying the lubricating fluid in the joints if used early and regularly.  DMSO is effective with osteoarthritis, the "wear and tear" kind of arthritis. Relief from acute pain can be within 5-30 minutes. Relief from chronic pain, as in severe arthritis, may take longer, from 1-6 weeks of regular use.  MSM eliminates the inflammation of carpal tunnel, dissolves scar tissue, surface blemishes, prevents blistering and relieves the pain from a burn.
Horse Chestnut appears to have the capacity to reduce swelling and inflammation by slowing down the rate at which fluid leaks from irritated capillaries.  It increases blood circulation, which can help ease sudden muscle cramping, especially during sleep. Horse chestnut may also improve the elastic strength of veins, preventing the release of enzymes that break down collagen and create holes in capillary walls, causing vein damage. Arnica oil penetrates into the skin, helping activate metabolism in underlying tissues and promotes burning of excessive fat deposits in fat cells. The cleansing, nourishing, moisturizing and lubricating action of arnica oil helps improve overall skin conditions and appearance. It is traditionally used to help improve local skin metabolism and circulation, promote healing of bruises and to dissolve cellulite. Massage this unique formula on skin to soothe and heal sprains and relieve irritations from trauma, arthritis and muscle or cartilage pain.
Ingredients:   Organic DMSO 25% (derived from plant pulp), triple UV treated deionized water, MSM 12% – Methylsulfonylmathane – organic sulfur, organic calendula flower extract, organics horse chestnut extract, organic vegetable glycerin, organic aloe vera extract 200:1, organic usnea extract / old man's beard (wild crafted natural preservatives), grapefruit seed extract, organic apricot kernel oil, organic arnica oil, 100% pure tea tree oil (anti-fungal, anti-bacterial, benzene free), organic sweet almond oil, Vitamins A, D3 and E oils, fatty acid esters derived from coconut pulp used as an emulsifier, and organic peppermint oil.
*These statements have not been evaluated by the Food and Drug Administration. These products are not intended to diagnose, treat, cure or prevent any disease.