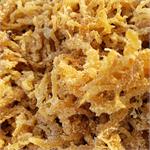 Ingredients: Raw wild-crafted Gracilaria (Sea Moss), a vegan thicknener and emulsifyer that does not need any boiling, a healthy substitute to gelatin.

Can be used to fluff up or firm liquids, shakes, parfaits, mousse, pies, ice cream, nut or seed milks, yogurt, cheese, or pate.
The best kept secret for the most delicious and emollient raw food creams.

Our Irish Moss is wild-crafted and truly raw, fresh from the ocean -- it comes with a little sand and salt; needs to be cleaned and soaked before use.

Irish Moss is loaded with minerals and is also very beneficial to strengthen lungs and respiratory system.